Digigram's 35 years expertise in the design and development of pro audio solutions has been key to build successful installations in many areas, ranging from radio broadcast to industry. However, we like to light a creative spark and use our expertise for custom designed projects where we thrive in achieving the unexpected: follow us as we unfold this flight simulation project!
The stressful routine of aircraft and chopper pilots, whether commercial or military, often needs to be proven through training sessions. Flight simulators provide a close-to-reality framework for trainees, where the whole environment must replicate actual flying conditions, sound environment included. The audio environment will indeed include the headset features, intercom and any and every signal and beep that account in the aircraft daily routine. Flight simulators include an external system that mimics the pilot's audio environment and that can be triggered when relevant. Moreover, the external system should include features enabling the instructor to interfere when needed in the drill, whether by adding audio signals and sounds, or via intercom to communicate with the pilots. All in all, the system must feature the littlest latency to match real flight conditions where timing is extremely sensitive.
Digigram has engaged in moving the regular external audio system to an AoIP-based solution.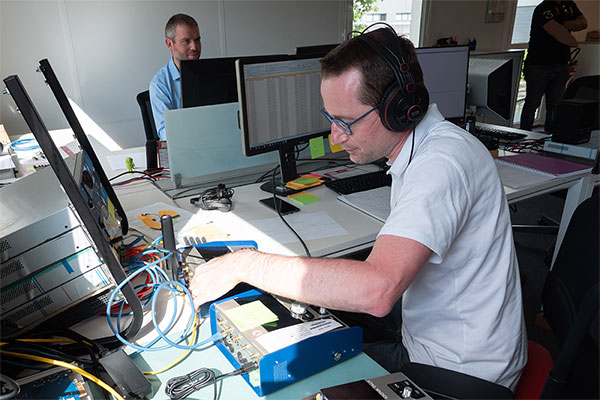 Digigram's expertise covers the three available AoIP technologies: Ravenna, Dante and AES-67 with a panel of products and solutions (LX-IP Ravenna or AES67 and LX-IP-Dante cards).
Digigram has the knowledge and expertise to support its clients and partners' developments and jointly work with them in project mode. A smooth and constant communication among teams allows thorough work in terms of specifications.
Digigram development teams are used to working with Agile methodology, and can easily tag along teams using a similar methodology. Plus it enables an efficient project development where milestones are clearly defined ahead.
How Digigram helped:
Our teams developed an AoIP connection module for the flight simulators based on existing, proven Digigram solutions.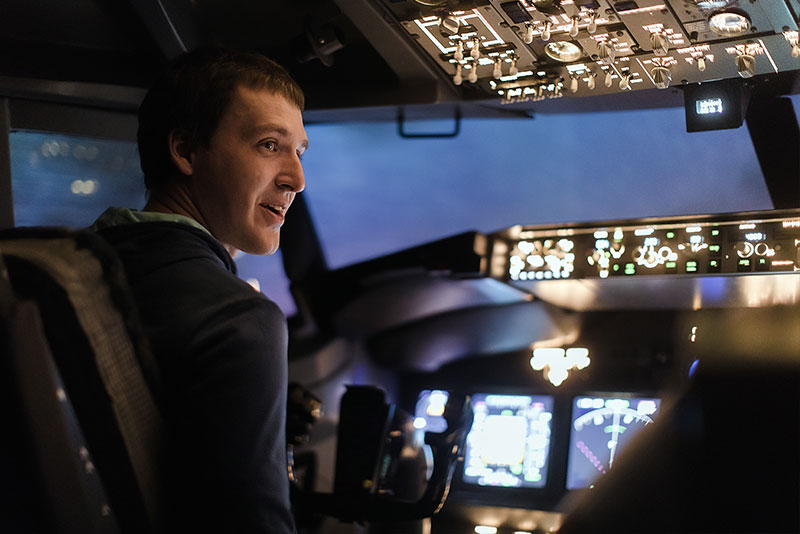 The solution includes 3 elements:
A 2U 16In/12O audio rack , with Dante/AES67 connectivity
A compact 2In 2Out audio rack with Dante/AES67 connectivity
An LX-DANTE card, offering up to 128 input and output channels
Of course, the main challenges were to provide a solution that could support a high channel account mixed with control streams on the same network, while meeting the aeronautics standards and maintaining the lowest possible latency to replicate real flight conditions.
How we made it work
Our teams developed a hardware based solution using AoIP transport technology and control protocol. This solution went through a design phase, followed by prototyping and a battery of tests (among which control and audio integrity). When lights went green, we scaled up to performance tests, the final phase prior to manufacturing the solution at industrial scale.
… And more specifically:
The API and hardware design: we started working on the routing system to guarantee the littlest latency possible and used Dante technology plus FPGA to ensure the best performances.
Prototyping: we focused on the motherboard first, to validate the design and its performances.
Scaling-up: once the earlier phases were completed with success in terms of performances per unit, we focused on augmenting the overall system capacity using a home-designed prototype matching the actual use case. That prototype embedded 12 inputs and 16 outputs, as required by our client.
Test bench: The next phase included the development of a dedicated API that would enable the automatic identification/recognition of the device on the network, plus control and monitoring of interface specific I/O parameters. Cherry on the cake? We took care of the firmware update.
Overall qualification and standards
Our system was to tick the following:
Temperature and weather conditions resistant
Shockproof
Vibration proof
Electrical safety (EN60950-1)
Electromagnetic compatibility (2014/30/EU Directive)
Benefits
The specification phase was carried out ahead of any design phase and that thorough work has been fruitful thanks to a joint teamwork: users and developers were able to share challenges and concerns to make this project a success story.