Point Source Audio to offer Digigram's line of IP Audio Codecs as the Company's
Master Distributor for the U.S.
Digigram , the market leader of broadcast audio solutions is expanding their partnership withPoint Source Audio who has been their trusted partner in the US market for over eight years. As their Master Distributor, Point Source Audio will add the full range of DigigramAoIP products to their existing portfolio.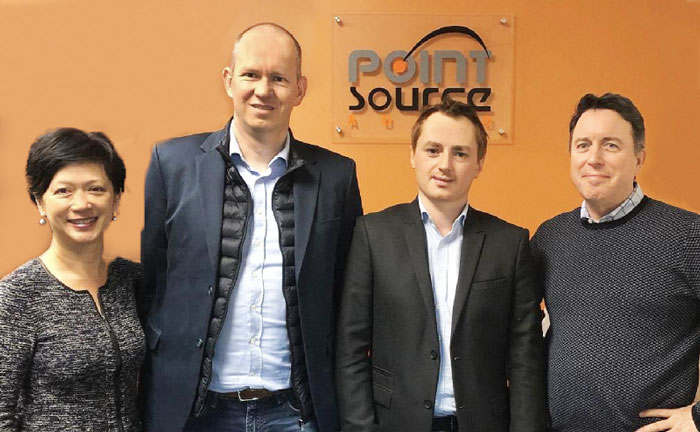 "We are thrilled to extend our partnership with Point Source Audio. We rely on their professionalism and technical expertise and our long-standing partnership with them reinforces how Point Source Audio and Digigram will be successful working together", says Jérémie Weber, Digigram CEO.
"Digigram is a worldwide recognized brand for audio codecs and Point Source Audio has the reputation, the reach and the commitment to deliver this to the American market. Together we will have a very positive impact on audio transport throughout America.
I am also impressed with the technical competency and enthusiasm of the PSA team, who will deliver top notch education and training, as well as the support services our customers expect. This is the right time to expand our reach and Point Source Audio's commitment to excellence will make this happen," Jérémie Weber added.
"Over the past eight years we've built a strong and valued relationship with everyone at Digigram. They're a well-known and respected brand – together we'll work in close collaboration to grow in this new and exciting market." says James Lamb, Point Source Audio President.
Point Source Audio will have an array of Digigram products on display at booth #C5115
for attendees of NAB 2018 in Las Vegas, April 9-12. Digigram will also be present at booth #N6615 . More information about Digigram and Point Source Audio solutions can be found by visiting www.digigram.com and www.point-sourceaudio.com.
About Digigram:
For over 30 years, Digigram has developed innovative digital systems that make modern broadcasters' rapidly evolving operations more efficient, more reliable and more effective. Used by thousands of journalists, broadcasters and industrial users all over the world, Digigram's sound cards, audio processing software and pioneering IP audio technologies are designed with a consistent attention to quality and reliability. Digigram (DIG) is publicly listed on the NYSE Euronext Paris stock exchange. More information is available at www.digigram.com . Follow the company on www.linkedin.com
About Point Source Audio:
Point Source Audio ( @PSA_audio ) manufactures and distributes worldwide their SERIES8 and EMBRACE miniature microphones—a unique line of headset, earworn and ear mounted microphones known for their robust bendable boom and waterproof features. The company also holds the patent for the world's first modular in-ear comms headset that is supporting the hearing health for audio, lighting and camera techs using headsets everywhere from sports to space. As a result of PSA's pro-audio expertise and its admired reputation for sales and service support, the company has also been named the North American distributor by audio networking companies Digigram and AuviTran. Founded in 2004, Point Source Audio is headquartered in Petaluma, Calif. For more information call (415) 226-1122 or visit www.point-sourceaudio.com. Follow the company on Twitter at www.twitter.com/PSA_audio