The perfect gateway to RAVENNA and AES67 networks.
from mission-critical applications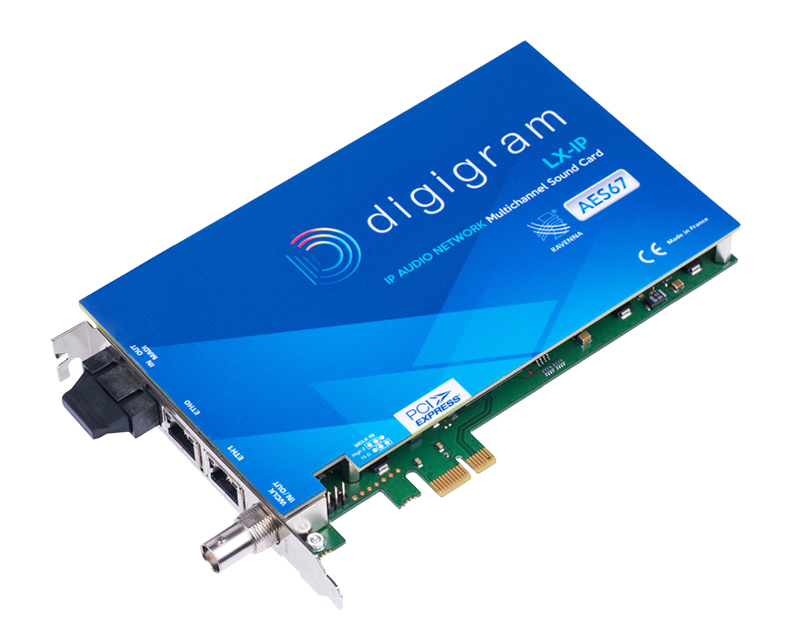 When working with RAVENNA AoIP and AES67 networks on mission critical applications, our LX-IP card is the perfect addition to bridge professional audio software applications: it brings ultra-low latency, phase-accurate and high precision clock management of AES67 and RAVENNA AoIP networks. So seamless you don't even notice the difference.  
Perfectly suited for on-air or production studio workflows, you will enjoy the full power of 64 channels, 0.5 ms latency and phase accuracy. Operating several applications at once? Our workhorse LX-IP has a hardware-based architecture that maintains performance regardless of the computational load running on the host system. Keep on!
LX-IP with MADI option provides a seamless migration path from legacy digital audio to AoIP and provides all MADI features described below.
Fast …

Forget latency: 0.5ms network latency is the new black  
… And Furious
A sturdy hardware structure to bear computational load while maintaining a stable service – a must in broadcast
One card fits all OS
Multiplatform feature to operate under Windows and Linux
High channel count
64×64 I/O
PTP grand master or slave
Phase-accurate audio distribution
on synchronous AoIP networks
Interoperability
with traditional digital audio
Seamless migration to IP
High density, ultra-low latency and phase accurate AoIP / PC / MADI bridge
Same latency as Digital audio
Sub-millisecond round trip latency
Secure content delivery
HW-based permanence of service whatever the applications running on the host PC
Ensure interoperability
LX-IP is fully compliant with triple standards AES67, RAVENNA and MADI (AES10)
Supported OS / Environments
Windows versions XP, Vista, 7, 8, 10, 11, and Windows Server versions 2003 , 2008 , 2012, 2016, 2019
Linux
Compatible Drivers: ASIO, WASAPI / low latency WDM DirectSound, ALSA
Configuration
Bus/Format: PCI Express(R) x1 (compatible x1, x4, x8, x16 slots)
Size: 111.15 mm x 167.65 mm x 20 mm
Power requirements (+3.3V/+12V): 0.4 A / 0.12 A
Operating: temp / humidity (non-condensing): 0°C / +50°C • 5% / 90%
Storage: temp / humidity (non-condensing): -5°C / +70°C • 0% / 95%
Connectors
2 Gigabit Ethernet RJ45 ports for RAVENNA I/O (dual port or Primary / Back up mode)

1 optical connector for MADI I/O  (Factory option) (multimode, 1300nm)

1 BNC for Word Clock In / Out
IP audio
RAVENNA I/O channels: 2 banks of 64/64 I/O (Mono) channels at 44.1 kHz or 48 kHz (64/64 I/O on each Gigabit Ethernet interface)
RAVENNA packet size: From 128 down to 1 (ultra-low latency profile) audio samples per RAVENNA packet
AES67 compliance: Full compliance in all respects with AES 67
Supported audio payload formats: PCM16 / PCM24 / PCM32 / AM824 (PCM24+AES3 channel status)
PC Record/Play channels: 64/64 simultaneous Record/Play (Mono) channels to/from PC
MADI (Multichannels Audio Digital Interface) inputs and outputs:
Optical I/O connector,  64/64 I/O  (Mono) at  48 kHz sampling frequency and  32/32 I/O (Mono) at  96 kHz

(Factory option)
Clock
Word Clock input or output
BNC connector, Input or Output position selectable by software.

Input : TTL , impedance selectable by jumper (75 Ohms / HighZ).

Output : Max 5 Vpp, 75 Ohms output impedance
Clock sources:
PTPv2 (IEEE1588-2008) from network or internal clock or Word Clock or MADI input

Local clock eligible as GrandMaster PTP

Local clock precision : better than 10 ppm
Sampling frequencies:
From local clock: 44.1 kHz, 48 kHz and 96 kHz (MADI)

From network or Word Clock:  44.1 kHz, 48 kHz and 96 kHz (MADI)

From MADI: 44.1 kHz, 48 kHz, 96 kHz
Control and routing
Control
HTTP (web pages from embedded server)

EMBER+
Routing: Zero latency on-board routing matrix between RAVENNA, PC Rec/Play and optional MADI  channels
How to retrieve the IP addresses of the LX-IP
The best way is to use Wireshark and directly connect your LX-IP card to your computer, after setting a capture filter to exlude your PC's IP address to narrow the displayed messages.