PCX881e MULTICHANNEL SOUND CARD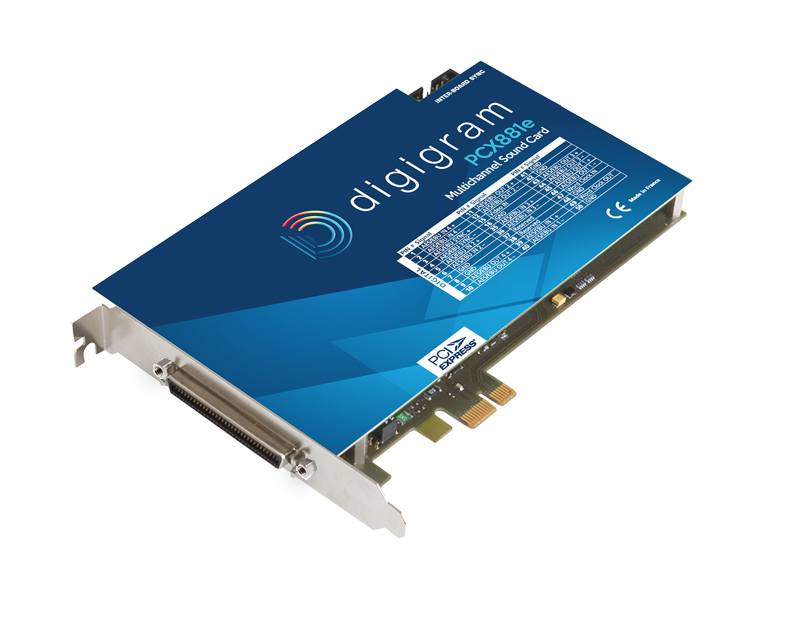 Key Workflow: PCI Express multichannel sound card with on-board processing for on-air automation, production, permanent playback and recording .
PCX881e is the reference multichannel sound card with on-board processing designed for operating in continuous 24/7/365 use-environments, and fully digital systems, such as radio automation. Its on-board processing guarantees all audio channels are always processed whatever the PC CPU load is, which gives absolute reliability and responsiveness to the audio system.
At a glance
PCX881e is the full featured multichannel model of the PCX series of sound cards. Thanks to its broadcast grade specifications, its on-board processing and unrivaled reliability, PCX881e is the references multichannel sound card used in the radio automation systems designed by Digigram Development Partners. A proprietary Software Development Kit (SDK) allows control of the card's on-board functionalities. Available as part of the systems delivered by Digigram Development Partners, PCX881e can also be used as a linear PCM sound card with software applications based on standard driver interfaces.
Multichannel sound card designed for broadcast radio

AES/EBU only

On-board processing available through Proprietary Digigram SDK: MPEG audio, mixing of PCM and MPEG, cross-fades, real time time-scaling

Proprietary Software Development Kit for controlling the on-board features

Interoperable with most of the third party software applications for audio production under Windows, through DirectSound, Wasapi, and ASIO

PCX cards are sold to Development partners: they design and sell the applications that include these cards
Key features
Multichannel PCI Express sound card with on-board processing: MPEG audio, mixing of PCM and MPEG, cross-fades, real time time-scaling, 3-band parametric EQ, Maximizer

Four stereo AES/EBU inputs and outputs; all four inputs with hardware sample rate converters and digital gains

Synchronization inputs: AES11, Word Clock, black burst video reference

Support for Windows 32-bit and 64-bit (Digigram proprietary SDK, WDM kernel streaming, DirectSound, Wasapi, ASIO)

Breakout cables or 2U breakout box BOB8. XLR connectors
Low OPEX
low failure rate and high reliability
Ongoing product support
from Digigram and its Development Partners
Increased system efficiency
guarantee of low latency operations and of processing power availability
Configuration
Bus/Format:

 

PCI EXPRESS™ 

(PCIe

®

) x1 (x2, x4, x8, x16, x32 compatible)

Size:

 

168 mm x 111 mm x 20 mm

Power requirements (+3.3V / +12V):

 

1.3 A / 0.02 A

Operating: temp / humidity (non-condensing):

 

0°C/+50°C • 5%/90%

Storage: temp / humidity (non-condensing):

 

-5°C/+70°C • 0%/95%
Inputs
Digital inputs (stereo):

 

4 AES/EBU with hw Sample Rate Converters, 7.5:1 to 1:8, up to 192 kHz

Programmable input gain: 

digital

: 

from  –110 dB to +18 dB

Other inputs:

AES/EBU Sync (up to 192 kHz), Word clock (up to 96 kHz), LTC, Video

AES11 synchronization
Connectors
Internal connectors:

 

Inter-board Sync

External connector:

 

68-pin SCSI MDR

Digigram accessories available:

 

Breakout cable or 2U 19″ Breakout Box
Audio specifications
Sampling frequencies available:

 

Programmable from 22.05 to 192 kHz

Supported audio formats:

 

MPEG, PCM (8, 16, 24 bits), Float IEEE754
Development environments
Digigram management under Windows:

 

np SDK

Other management under Windows:  

Wave (PCM & MPEG Laye II), WASAPI, ASIO, and DirectSound (all PCM)

OS supported:

 

from Windows 7 and Windows server 2003 (32-bit and 64-bit versions)

Main on-board processing features (with np SDK):

 

PCM play & rec, MPEG Layers I & II play & rec, Layer III play, Float IEEE754,direct monitoring, real-time mixing, level adjustment, panning, cross-fade, punch-in/punch-out, scrubbing, time-stretching, pitch-shifting, 3-band parametric equalizer, maximizer, format and frequency conversions