VX442e – Multichannel PCM Sound Card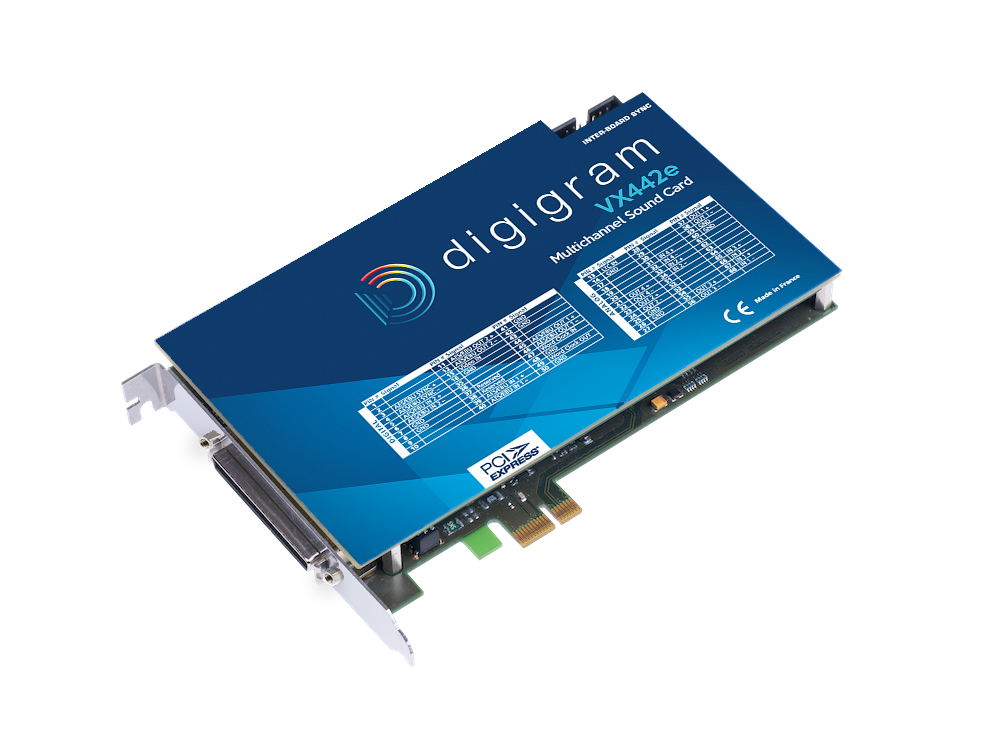 Key Workflow: Linear PCM multichannel stereo sound card for professional audio workstations
VX442e is a professional linear (PCM) multichannel sound card based on the PCI Express bus interface. It is designed for use in any professional system running under Windows or Linux. It is a reference card in radio broadcast automation for applications such as automated recording and play-out and multichannel production.
At a glance
VX442e features  four input and output channels and offers balanced analog and AES/EBU connectivity, with the possibility to synchronize on an external clock (AES11, Word clock, black burst video).  It can be used under Windows or Linux operating systems, with software applications based on standard driver interfaces such as WDM Kernel streaming, DirectSound,  Wasapi, and ASIO for Windows, and Alsa for Linux.
Developed for the broadcast industry

Supports balanced analog and AES/EBU audio

Interoperable with most third party software applications for audio production, under Windows and Linux
Key features
Multichannel linear PCM sound card

PCI Express bus interface

Four balanced analog inputs and outputs, +24 dBu max level

Two AES/EBU inputs/outputs, with hardware sample rate converter on each AES/EBU input.

Adjustable input and output analog and digital gains

On-board 3-band parametric EQ and Maximizer effects

Support for Linux (Alsa driver) and Windows 32-bit and 64-bit (WDM kernel streaming, DirectSound, Wasapi, ASIO)

Breakout cable with XLR connectors for audio connectivity
Low OPEX
low failure rate and high reliability
Ongoing product support
from Digigram and its Development Partners
Configuration
Bus/Format

 

:

 

PCI EXPRESS™

 

(PCIe

®

) x1, (x2, x4, x8, x16, x32 compatible)

Size

 

:

 

67.7 mm X 106.7 mm X 17.1 mm

Power requirements (+3.3V / +12V) :

 

2.5 A / 0.1 A

Operating: temp / humidity (non-condensing) :

 

0°C/+50°C • 5%/90%

Storage: temp / humidity (non-condensing) :

 

-5°C/+70°C • 0%/95%
Inputs
Analog line inputs (mono) :

 

4 balanced

Maximum input level/ impedance :

 

+24 dBu /  >10 kOhms

Digital inputs (stereo) :

 

2 AES/EBU with hw Sample Rate Converters, 7.5:1 to 1:8, up to 192 kHz

Programmable input gain :

 

analog: from –94.5dB à +15.5 dB (maximum sensitivity: 0 dBFs for –15.5 dBu input), digital:from –110 dB to +18 dB

Other inputs :

 

AES/EBU Sync (up to 192 kHz), Word clock (up to 96 kHz), LTC, Video

AES11 synchronization
Outputs
Analog line outputs (mono) :

 

4 servo-balanced

Maximum output level / impedance :

 

+24 dBu / <100 Ohms

Digital outputs (stereo) :

 

2 AES/EBU, up to 192 kHz

Programmable output gain :
– analog: from –86 dB to +24 dB
– digital: from –110 dB to +18 dB
Other outputs :

 

Word clock (up to 96 kHz)
Connectors
Internal connectors :

 

Inter-board Sync

External connector :

 

68-pin SCSI MDR
Audio specifications
Sampling frequencies available :  

Programmable from 8 to 192 kHz

A/D and D/A converter resolution :

 

24 bits

Supported audio formats :

 

PCM (8, 16, 24 bits), Float IEEE754
Audio Performance measured at Fs=48 kHz
Frequency response (record + play) :

 20 Hz–20 kHz: ±0.2 dB

Channel phase difference: 20/20kHz :

 

<0.2°/2°

Dynamic range (A-weighted) :
– analog In: >104 dB
– analog Out: >104 dB
THD + noise 1 kHz at –1 dBfs :
– analog In: <–97 dB
– analog Out: <–94 dB
Crosstalk (Analog in or out) :
– 1 kHz at 24 dBu: <–100 dB
– 15 kHz at 24 dBu: <–85 dB
Development environments
Digigram management :

 

np SDK (PCM only)

Other management :

 

Wave, ASIO, DirectSound,WASAPI, ALSA

OS supported :

 

Windows 32bit and 64 bit versions, Linux

Main on-board processing features (available through the Digigram np SDK) :

 

PCM play, rec, Float IEEE754, direct monitoring, real-time mixing, level adjustment, panning, cross-fade, punch-in/punch-out, scrubbing
How can I adjust my VX/PCX audio levels
When the driver is installed, the DHS software (Digigram Hardware Settings" is installed. Just run that software to have access to the IN/OUT level adjustments.
How to select the AES input ?
In the DHS you have to set the clock to AES/EBU Sync to be able to select the AES input.
I am facing a BSOD when using my VX sound card
We face issue on HP computer with the DMA management. To avoid BSOD, you have to disable the DMA protection in the BIOS
My recent HP computer do not boot with a VX, PCX or LX-MADI sound card
We identified that some recent Hewlett-Packard computers (HP Z1 G6, HP ProDesk 400 G7, HP Elitedesk 800 G6, HP ProDesk 600 G6 Microtower PC, HP Z2 G8 Tower Workstation, HP ProLiant DL360, HP Proliant DL380) don't boot with VX, PCX and LX-MADI PCIe sound cards. This is due to problem on recent HP motherboard not compatible with the PCIe bridge used on the cards. This has been fixed by HP with a BIOS update available on support.hp.com./
If you encounter similar problems with other HP references, kindly have a check in the support.hp.com  website for individual BIOS updates since there is no constant firmware available for all of these models.