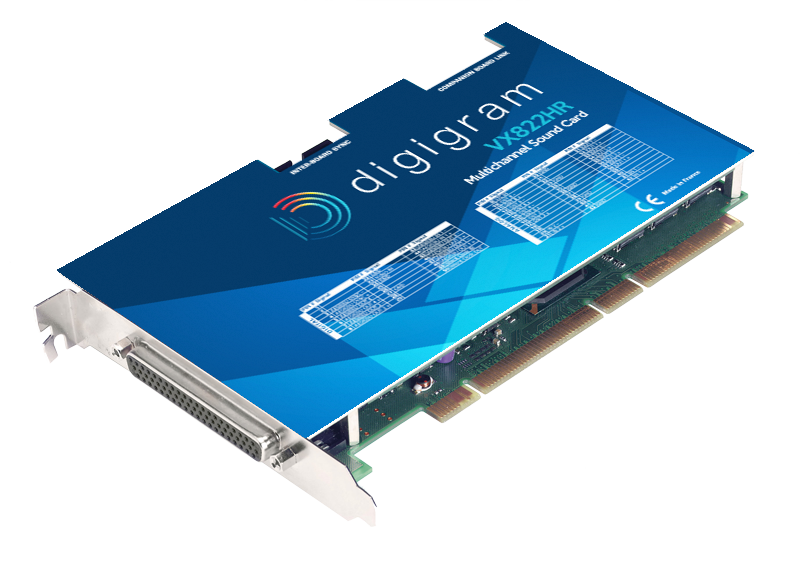 DISCONTINUED PRODUCT – END OF MAINTENANCE: June 2019
VX442HR is a linear PCM sound card  designed to be used through the following standard driver interfaces: WDM kernel streaming, DirectSound, Wasapi, ASIO, and Alsa for Linux.
It can also be used with software applications based on  Digigram proprietary  Application Programming Interfaces (APIs) under Windows operating systems, so as to benefit from the available on-board features: PCM audio mixing, cross-fades, timed-based and event-based functions. VX442HR card does feature on-board support of MPEG audio and time-scaling.
The "HR Runtime" package allows installing the following components:
WDM directSound driver
ASIO driver with its ASIO control panel (CPL)
Legacy Wave MME driver
Digigram Hardware Settings (DHS) application, which allows setting the cards paremeters (clock, synchro, input type selection, gains, vu-meters, monitoring, input SRC, EQ)
Supported Windows flavours
XP, Vista, 7, 8, 10, 2003 Server, 2008 Server, 2012 Server, 32-bit and 64-bit versions.
Important installation note
Under Windows 7 and Windows 8, the following error message may be displayed during the installation of the HR Runtime package:
"Windows cannot verify the digital signature of the driver required for this device….. (Code 52)".
This error is due to a bug of Windows 7 and Windows 8 in the support of driver signatures. This error is fixed in recent Windows updates.
To fix it, it is necessary to:
1) apply the recent Windows updates. This fixes the "Code 52" error.
2) apply the following Microsoft Hotfix. This removes the remaining "Untrusted publisher" dialog box appearing when installing the driver.
Once this is done, HR Runtime can be installed correctly.
Linux
Alsa driver included in the Linux kernel.
How can I adjust my VX/PCX audio levels
When the driver is installed, the DHS software (Digigram Hardware Settings" is installed. Just run that software to have access to the IN/OUT level adjustments.
How to select the AES input ?
In the DHS you have to set the clock to AES/EBU Sync to be able to select the AES input.
I am facing a BSOD when using my VX sound card
We face issues on the HP computer with the DMA management. To avoid BSOD, you have to disable the DMA protection in the BIOS
My recent HP computer do not boot with a VX, PCX or LX-MADI sound card
We identified that some recent Hewlett-Packard computers (HP Z1 G6, HP ProDesk 400 G7, HP Elitedesk 800 G6, HP ProDesk 600 G6 Microtower PC, HP Z2 G8 Tower Workstation, HP ProLiant DL360, HP Proliant DL380) don't boot with VX, PCX and LX-MADI PCIe sound cards. This is due to a problem with the recent HP motherboard incompatible with the PCIe bridge used on the cards. HP has fixed this with a BIOS update available on support.hp.com./
If you encounter similar problems with other HP references, kindly check the support.hp.com  website for individual BIOS updates since there is no constant firmware available for all of these models.
Which Linux Distribution are supported for sound cards ?
LoLa soundcards and multichannels VX/PCX series are supported on every Linux distribution, as the ALSA driver is part of the kernel.
The VX and PCX stereo cards have precompiled versions for Debian, Ubuntu, CentOs, Fedora, and OpenSuse-based distributions. For the LX series, the following distributions are supported: Ubuntu LTS / Debian LTS / CentOS 7.
For other Linux distributions, we propose a service for providing an adequate compiled and installable driver package. UAX and Cancun series will work on every Linux distribution.
My sound card is not detected by Windows
Make sure that you downloaded the lasted driver on our website. Indeed, from time to time we have to make component updates that require a new driver.