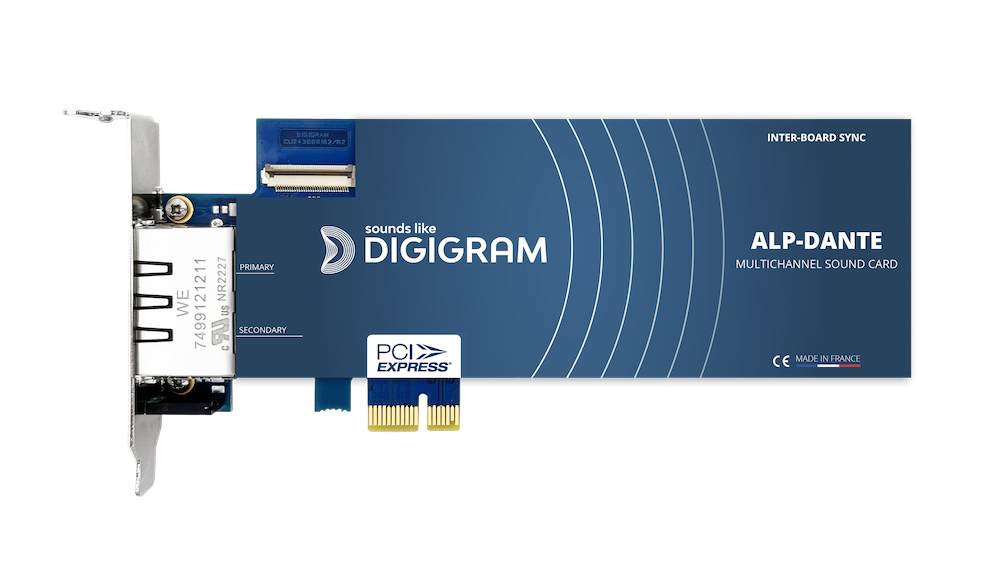 ALP-­DANTE
ALP-DANTE is a multichannel PCIe sound card with Dante AoIP connectivity. It is designed for professional PC-based audio systems running under Windows and Linux environments. With its reliability, stability and compact low profile design, ALP-DANTE is ready for any challenge. It offers 64/64 Dante I/O channels (at 48 kHz), directly accessible to the software applications through 64 playback channels and 64 recording channels.
Drivers for Windows
The "ALPX-kit" package for Windows allows installing the following components:
Driver with Wasapi interface
ASIO driver with its ASIO control panel (CPL) (32-bit and 64-bit ASIO)
Digigram ALP-X Manager application (I/O levels, I/O routing matrix, clock selection,…)
The supported Windows flavours are :
Windows 10 from version 20H2
Windows Server from version Server 2019
The ALPX-kit for Windows and its release notes are available for download at the bottom of this page.
Linux
ALP cards operate under Linux from the 64-bit Kernel 4.1x onwards (kernel version according to kernel.org").
Actively supported Linux distributions:
Debian as of version 10
Ubuntu 20.04
The Alsa driver for Linux is currently supplied by Digigram so that you can compile it for your Linux distribution.
Please contact support@digigram.com to get it.
In case you experience difficulties in compiling and installing the driver for your distribution, we propose an additional paying service to help you install your driver package.
Which Linux Distribution are supported for sound cards ?
LoLa soundcards and multichannels VX/PCX series are supported on every Linux distribution, as the ALSA driver is part of the kernel.
The VX and PCX stereo cards have precompiled versions for Debian, Ubuntu, CentOs, Fedora, and OpenSuse-based distributions. For the LX series, the following distributions are supported: Ubuntu LTS / Debian LTS / CentOS 7.
For other Linux distributions, we propose a service for providing an adequate compiled and installable driver package. UAX and Cancun series will work on every Linux distribution.
My sound card is not detected by Windows
Make sure that you downloaded the lasted driver on our website. Indeed, from time to time we have to make component updates that require a new driver.