Manufacturing coated sound card for the aircraft industry
Digigram's 35 years expertise in the design and development of pro audio solutions has been key to build successful installations in many areas, ranging from radio broadcast to industry. However, we like to light a creative spark and use our expertise for custom designed projects where we thrive in achieving the unexpected: follow us as we unfold this highly sensitive project involving defense forces and security system manufacturers around the world, where real time high quality audio is crucial.
Digigram's acute experience in the development of industrialization processes for electronic cards is highly appreciated, so is the company's expertise when it comes to component selection while respecting strict specifications industry-related. Digigram also supported the procurement process and the overall subcontracting management progress.
The project in details
Aircraft manufacturers must comply with the strictest standards and require their equipment to integrate sound cards that fulfill aerospace standards.
Specifically, embedded electronic cards must comply with the IP Class 2 standard.
Detailed requirements include:
● The cards must be produced according to the IP Class 2 standard
● The production process must include a washing phase
● The washing phase must be followed by a coating phase
● The card's I/O connector must feature Phillips screws instead of locking screws.
● The card is to be delivered with no cable
● Each card must bear its own product reference when delivered
How Digigram helped
Our R&D teams chose to rework the current VX882e. Available on the market as an off-the-shelf product, Digigram VX882e was the best choice to start with, as it channeled the basic features per the aerospace industry's requirements. The following steps were carried out based on the initial design:
Modification of the routing on the PCB
Addition of the washing + coating phases to the manufacturing process plus increased traceability
Prototyping
Manufacturing of multiples batches of cards 50 to 150) on an ongoing process since 2016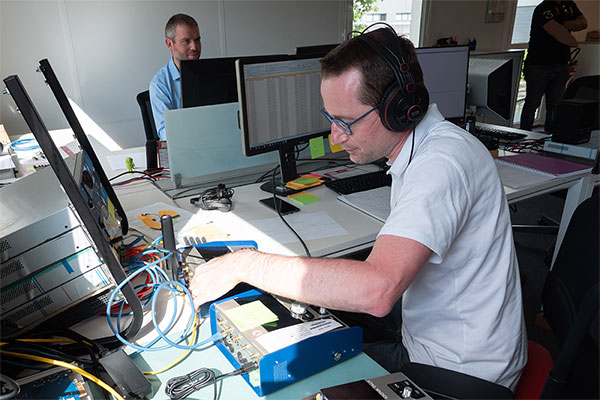 The project's extra mile
With the upgrade/customization of Digigram sound cards, the aerospace industry benefits from an increased traceability (an absolute must in sensitive fields) as well as a top-notch quality product with a proven track record and reputation.