The Radio Mega Challenge
The goal of Radio Mega is to "make a link with the people". Despite having a full-fledged studio in Valence, and another one in Romans sur-Isère, the station had very limited contact with the ground. Raphael Terribile, radio director and music pro- grammer from the station had the idea of creating a studio on a bicycle.
"Radio Mega conceived this studio-bike idea to broadcast and strengthen the projects within the territory to a wider audience."
The success of this studio-bike, from the idea to the technical realization, is due to the perfect synergy of different assets. It started with the acquisition of a bike with electric assistance and its transformation to include a wooden canopy and seating. Meanwhile, the question of broadcasting was the most important point. The mobile studio must be able to stream reliably from anywhere, and sometimes even while on the move.
Digigram delivered 2 products, an IQOYA X / LINK AES67 – to be compatible with the Axia console in livewire – which can receive the stream in the studio, and an IQOYA TALK on the studio-bike to broadcast the stream. On 23rd, June, for the release of the bike-show, the IQOYA TALK fulfilled its mission with flying colors: it streamed for 7 hours and 30 minutes using cellular networks.
---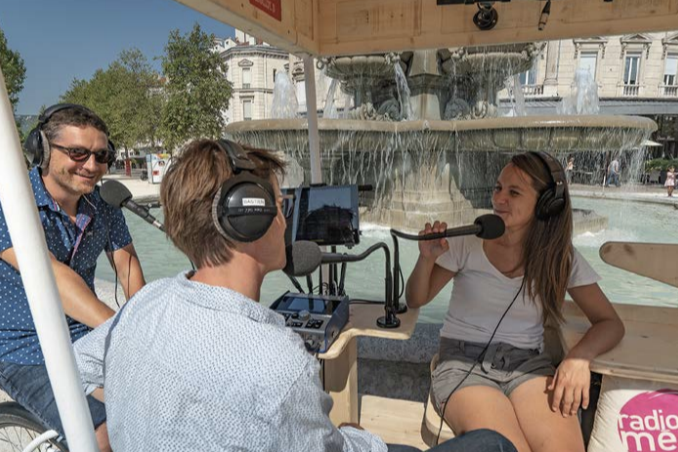 After that, radio Mega organized a five-day tour of the Drome region with the studio-bike, which was a great success: Radio Mega was able to stream comfortably thanks to the dual built-in 4G module and 2 hot-swappable batteries.
The easy user-interface is ideal and simple for a field reporter. The ergonomy, functionality, and "usability" was designed to be maximized.
IQOYA TALK works with a very simple touchscreen with icons, just like a smartphone. "I just have to plug my microphone and click a button to connect my TALK to the radio. I'm going to the town square market to cover a story and I have the option to simply record or broadcast" says Bastien Enard. The audacious studio-bike, conceived by Radio Mega and powered by Digigram creates a perfect synergy that has a bright future.
Discover more stories with IQOYA TALK