A media company owns radio stations located in 6 cities of the country with a centralized MCR. The MCR and the radio stations have all moved to redundant AES67 infrastructures. The number of IP audio streams flowing through the AES67 networks of the MCR facility is about 2000 (this includes live audio streams to/from AES67 mixing consoles, streams from multiple playout systems, intercoms, and many others).
The project is to exchange in real-time multiple channels of produced audio material and intercoms between the sites (potentially up to 128 channels per site), with a limited bitrate, in low latency, high quality, and using two redundant WANs: one MPLS network, and a backup microwave network. 
An important matter is the security; a high protection between WAN and LAN is needed.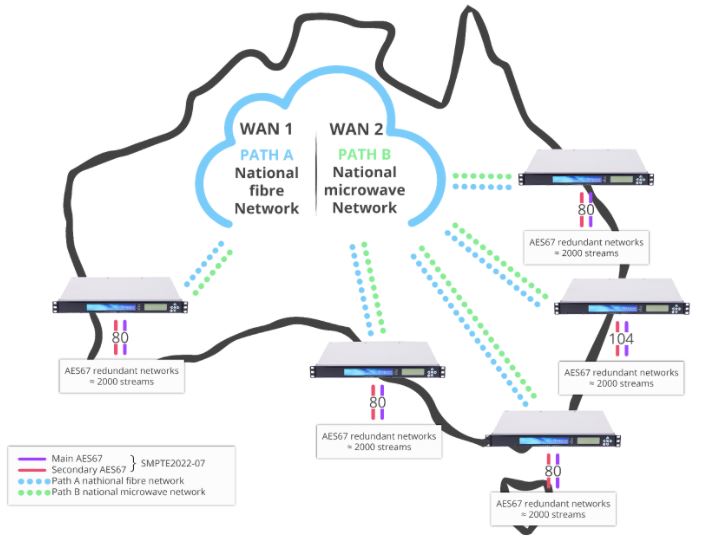 The solution consists in using an IQOYA SERV/LINK AES67, the Digigram 1U LAN to WAN audio gateway, at each site. 
IQOYA SERV/LINK AES67  allows for the full duplex transport of up to 128 AES67 channels over WANs, in compressed or uncompressed audio. For the produced audio channels, the Qualcomm Enhanced aptX compression format is selected for its low latency, and because it was already used with some older codecs in the company. For the intercom channels, the Opus compression format is selected because of its low latency and very low bitrate. 
Each IQOYA SERV/LINK is connected to the two WANs through the two Ethernet ports, and streams and receives the IP streams in redundant dual streaming for hitless recovery of the lost packets.
On the AES67 side, IQOYA SERV/LINK supports up to 128 channels, with A ES67 network redundancy (SMPTE 2022-7).
As IQOYA SERV/LINK WAN Ethernet  ports and AES67 Ethernet ports are separated via a PCI Express bus, there is absolutely no risk of intrusion into the LAN from the WAN, which perfectly matches the security requirements of the media company.
Compactness of the solution: up to 128 channels of compressed or uncompressed audio, in full duplex, in only 1U.
Security of the solution: LAN to WAN IP audio gateway, with impassable hardware firewall between WAN and LAN.
Hitless network redundancy on the AES67 LAN as well as on the WANs (SMPTE 2022-7, and redundant dual streaming on two WANs).