The Four-channel professional USB Audio interface: Set, play, game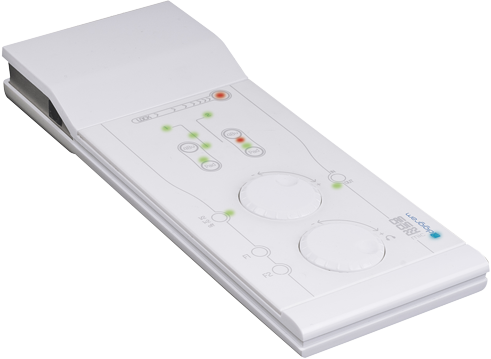 The Cancun range is production and live sound engineers' best friend: a quick set up of high-quality Record/Play functions with a PC or Mac through its native USB Audio 2.0 streaming, and technicians on the go can enjoy the full power of Cancun's AES/EBU and analog interfaces. Cancun will gladly Play/Record up to 4+4 channels simultaneously with Digigram's signature spotless sound. Whether broadcast or live, Cancun is the ideal companion that won't ever let you down: sturdy built and super reliable, it is also user-friendly with its LED powered touch panel for easy control settings enabled by main audio measurement applications.
Zero latency, zero compromise, CANCUN is our high-performance sound card that embeds the essence of Digigram's know-how for pristine live and broadcast applications.
High audio quality
Line/Mic inputs with high-quality preamps
Low latency
The speed of sound! Zero-latency embedded mixer ( → Round trip latency below 4ms)
Robust and Stable  
Our ultra-robust design and high-end connectors fear no situations!
Best-in-class audio performances
(+55 dB gain, -105 dB THD+N, -126 dB EIN)
Compact form factor
in slim, streamlined design.
Ultra-high precision clock
No compromises
→ 2/2 Analog and 1/1 AES-EBU I/Os in a high-density casing
Record and edit Broadcast quality audio
Console class Mic
Carry a single toolbox
Standalone mode provides high-end
Secure your Live productions
Ultra-robust design and high-end connectors
Mic preamp and Analog / AES I/Os bridging
Supported OS / Environments
Operating system supported Windows 10, 8, Windows 7 (32 and 64 bits), Mac OS X, Linux
Management: depending on the host operating system's implementation of the USB Audio 2.0 specification. Microsoft Windows management is provided through DirectSound, Core Audio, WASAPI third-party ASIO driver.
Configuration
Bus/Format USB 2.0 / Compliant with the USB 2.0 audio specification
Size 254 mm x 96 mm x 36 mm
Operating: Temp / Humidity 0°C to +50°C / 0 % to 90 % (non condensing)
Connectors
Audio connectors One XLR female for left input channel
Sub-D 25 pts (222-Mic) or 44 pts (442-Mic) for all analog and digital I/Os 6.35 mm jack for stereo headphone output
Neutrik XLR breakout cable included USB connector Standard, includes two A-type on PC side, one mini-B USB on card side
Audio I/Os
INPUTS
Analog inputs (mono) : 2 balanced analog Mic/Line inputs 
Digital inputs (stereo): 1 AES3 stereo input
Switchable: 48V phantom power 7 mA Max on each input
Analog input gain:
– From 0 to 55 dB by 1 dB steps,
– switchable Pad 30.0 dB
Input sensitivity: 0 dBfs adjustable from -30 dBu to +25 dBu (Line) and -60 dBu to -5 dBu (Mic)
Maximum input level/impedance Line: +25 dBu / > 3.5 kOhms; Mic: -5 dBu / > 2 kOhms
Frequency response (A/D Input)
– at 48 kHz: 20 Hz–20 kHz +0/-0.5 dB
– at 96 kHz: 20 Hz–40 kHz +0/-0.6 dB
– at 192 kHz: 20 Hz–80 kHz +0/-2.0 dB S/N
Analog input, typical S/N: 108 dB unweighted and 111dBA @48 kHz THD+N
Analog input, typical < -105 dB unweighted and -107 dBA / 20 Hz-20 kHz, @48 to 192 kHz ref 1 kHz at –3 dBfs
Mic inputs E.I.N., typical < -128 dB / Zsource = 40 Ohms; Pad Off; gain 55 dB
_________________________
OUTPUTS
Analog outputs (mono) : 2 balanced analog Mic/Line outputs
Digital outputs (stereo): 1 AES3 stereo outputs
Maximum analog level/impedance at 48 kHz: +10 dBu / 2×33 Ohms
Frequency response
– at 48 kHz: 10 Hz–20 kHz +0/-0.1 dB
– at 96 kHz: 10 Hz–40 kHz +0/-0.3 dB
– at 192 kHz: 10 Hz–80 kHz +0/-1.3 dB
S/N Analog output, typical > 111 dB unweighted @48 kHz
THD+N Analog output, typical < -98 dB unweighted / 20 Hz-24 kHz @48 kHz to 192 kHz, ref 1 kHz at –3 dBfs
Headphones output (stereo)
– Dedicated output stage, > 10 mW from 32 to 600 Ohms 10Hz-20 kHz +-0.1 dB;
– Dynamic range: 93 dB @32 Ohms, typical
Audio Specifications
A/D and D/A converters 24-bit / frequency : 32 kHz, 44.1 kHz, 48 kHz, 88.2 kHz, 96 kHz, 192 kHz
Audio formats: PCM 8, 16, 20, and 24 bits, full-duplex
Latency 3.4 mS
– analog-to-PC or PC-to-Analog (Windows 7 / 64 bits) 3.8 mS
– analog-to-MAC or MAC-to-Analog (Mac OS X 10.6.8)
Channel phase diff. (A/D and D/A) ± 0.2° (20 Hz – 20 kHz)
MIXER AND PROCESSING
Analog-to-AES/EBU Bridge In Stand-alone mode
AES/EBU-to-Analog Bridge In Stand-alone mode
Embedded Mixer Zero-latency headphone Mixer
Which Linux Distribution are supported for sound cards ?
LoLa soundcards and multichannels VX/PCX series are supported on every Linux distribution, as the ALSA driver is part of the kernel.
The VX and PCX stereo cards have precompiled versions for Debian, Ubuntu, CentOs, Fedora, and OpenSuse-based distributions. For the LX series, the following distributions are supported: Ubuntu LTS / Debian LTS / CentOS 7.
For other Linux distributions, we propose a service for providing an adequate compiled and installable driver package. UAX and Cancun series will work on every Linux distribution.
My sound card is not detected by Windows
Make sure that you downloaded the lasted driver on our website. Indeed, from time to time we have to make component updates that require a new driver.