The Super Professional USB stereo interface for demanding voice recording applications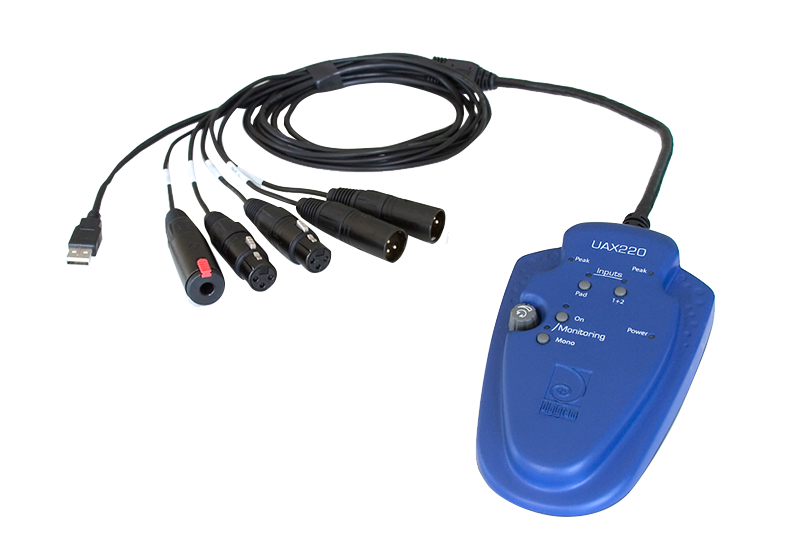 Don't get fooled by its apparently complex name: the UAX220-V2 is a professional stereo USB Audio interface designed for the most demanding broadcasting applications that require high quality audio acquisition of analog sources. We made it USB audio compliant to be swiftly used on any kind of computer and third party software applications. A pure plug and play card, start broadcasting without the burden of installing an additional driver. Complex name, yet simply and highly efficient. 
UAX220v2 offers 2/2 balanced analog high-quality I/Os.
A compact and slender design with all of Digigram's power and leading edge experience in audio performance. USB plug it, you are on air. Et voilà!
Plug and play
No driver, no burden. Straight to the point
Broadcast Quality
Hear that pristine sound? Yes, there is a direct connection to professional audio equipment (XLR, +22dBu max input level)
Low latency
Monitoring: Zero-latency hardware monitoring  mixed with playback to the line and headphones outputs
USB audio class 2.0: supported under Windows, Mac OS X, and Linux
2 balanced analog mono Inputs and Outputs
Switchable zero-latency direct hardware monitoring
(mixed with the playback)
Incredibly easy to use
USB self powered and no driver to install
Pro to pro
Direct connection to professional audio equipment (XLR, +22dBu max input level)
Super versatile to work with
pick your favourite Windows, Linux, or Mac OSX
Less is more
Cost effective professional grade product(XLR, +22dBu max input level)
Supported OS / Environments
Supported operating systems:
Management: Depending on the host operating system's implementation of the USB
Audio specification (Compatible Drivers): 
DirectSound, 

Core Audio, 

ALSA
Additional management: Digigram np SDK through Virtual PCX Third-party Asio driver
Configuration
Bus/Format:
USB 1.1, compatible 2.0
Size: 144 mm X 87 mm X 34 mm, Integrated 
Power consumption: 500 mA max
Operating: temp / humidity (non-condensing): 0°C / +50°C • 5% / 90%
Storage: temp / humidity (non-condensing): -5°C / +70°C • 0% / 95%
Connectors
External connectors:
Standard USB type A for connection with computer

2 Neutrik™ XLR-3 female for Mic/line inputs

2 Neutrik™ XLR-3 male for line outputs

Locking ¼" Neutrik™ female cable jack for headphones output
Audio I/Os
INPUTS
Analog line inputs (mono): 2 balanced 
Maximum input level/impedance: +22 dBu / >10 kOhms
OUTPUTS
Analog line outputs (mono): 2 servo-balanced
Maximum output level / impedance: +10 dBu / <100 Ohms
Programmable output gain: from -60 dBr to +10 dBr, by steps of 1 dB
Other outputs: 1 stereo headphones output with dedicated output stage and level adjustment
Maximum output power/minimum load: 2*40 mW / 32 Ohms
Audio Specifications
Sampling frequencies available: 
32 / 44.1 / 48 kHz
A/D and D/A converter resolution: 24 bits
Supported audio formats: PCM (8, 16 et 24 bits, full-duplex)
Operating modes: Either selected by application or user-selectable at a fixed resolution  (modes selected via UAX Manager application)
Monitoring: Zero latency hardware monitoring mixed with playback to the line and headphones outputs
Monitoring control: On/off and mono/stereo push buttons
Analog audio performance
Frequency response (record + play):
20 Hz – 20 kHz: ±0.2 dB
Channel phase difference: 20/20kHz: <0.2°/2°
Dynamic range (A-weighted):
Input: >104 dB

Output: >104 dB
THD + noise 1 kHz at –1 dBfs:
Input: <-98 dB

– Output: <-97 dB

Loop: <-93 dB
Crosstalk (Analog in or out):
1 kHz: <-110 dB

15 kHz: <-95 dB
Where can I find the UAX220 driver ?
The UAX220 driver is embedded in Windows OS. The card is automatically recognized.
Can I use the UAX220 on MacOS
Yes, the USB audio card is detected as Core Audio device and can be used with Mac computers.