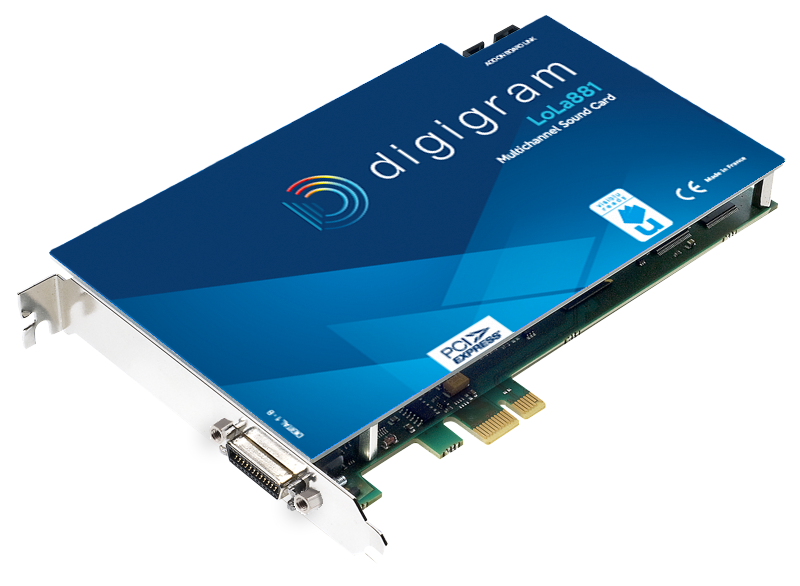 LoLa881 and LoLa881-SRC
LoLa881 and LoLa881-SRC are low latency linear PCM sound cards with 4 stereo AES/EBU Inputs and outputs. THey were developed to smoothly interface with the following standard driver interfaces: WDM kernel streaming, DirectSound, Wasapi, ASIO and Alsa for Linux.
Did you know that Lola881-SRC adds high quality sample rate converters on all the inputs? Now, you know.
The LoLa cards come with their "LoLa kit" package to install the following components:
WDM directSound driver

ASIO driver with its ASIO control panel (CPL)

LoLa Mixer application (allows setting the sampling frequency and the synchro clock, and displays the vu-meters)
Drivers for Windows
We are glad to provide LoLa with its "LoLa kit" package for Windows that includes: 
– WDM directSound driver
– ASIO driver with its ASIO control panel (CPL)
– LoLa Mixer application (allows setting the clock source, the sampling frequency, the inter-card synchronization).
Supported Windows flavors
– Windows 10, Windows 2012 & 2016 Server, 32-bit and 64-bit versions.
Linux
The Alsa driver is included in the Linux kernel.
Which Linux Distribution are supported for sound cards ?
LoLa soundcards and multichannels VX/PCX series are supported on every Linux distribution, as the ALSA driver is part of the kernel.
The stereo VX and PCX stereo cards have precompiled version for Debian, Ubunutu, CentOs, Fedora and OpenSuse based distributions. For the LX series the following distributions are supported : Ubuntu LTS / Debian LTS / CentOS 7.
For other Linux distributions, we propose a service for providing an adequate compiled and installable driver package. UAx and Cancun series will work on every linux distribution.
My sound card is not detected by Windows
Make sure that you downloaded the lasted driver on our website. Indeed, from time to time we have to make component update which require a new driver.