Multichannel Sound Card with SRC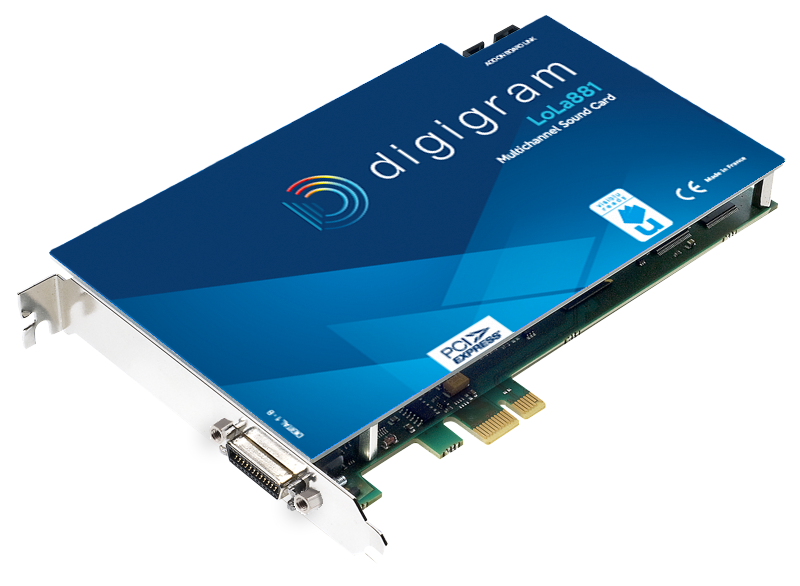 LoLa881 and LoLa881-SRC are the queens of radio broadcast applications. We have designed these PCI Express linear (PCM) multichannel stereo sound cards to excel with professional systems either Windows or Linux based that require up to four stereo AES/EBU input and output channels. Because we know that reliability is paramount for radio broadcast applications such as multichannel audio ingest, play-out, and production, LoLa cards come with ultra robust signature drivers that will deliver. LoLa881 and LoLa881-SRC are hands down the reference for professional audio workstations and their operators.
Reliability
Keep calm and carry on. Our hardware and software are designed for 365/24/7 mission-critical applications.
Made for multi-channel digital recording.
Up to 5 synchronized cards in a workstation
Versatile and hands-on
Delivered with standard and robust audio drivers for Windows and Linux, don't mind the adaptability: LoLa can be used with a large panel of audio applications.
High quality hardware sample rate converters on all the inputs (LoLa881-SRC)
External synchronization: AES11, Wordclock, Video sync
Support for Linux (Alsa), and Windows 32-bit and 64-bit (WDM Kernel streaming, DirectSound, Wasapi, ASIO)
Low OPEX
Low failure rate and high reliability
Ongoing product support
from Digigram and its Development Partners
Supported OS
Windows versions XP, Vista, 7, 8, 10, 11, and Windows Server versions 2003 , 2008 , 2012, 2016, 2019
Linux
Drivers for Windows : WDM KS, WASAPI, DirectSound, ASIO
Drivers for Linux: Alsa
Configuration
Bus/Format: PCI EXPRESSTM (PCIe®) slot (x1, x4, x8, x16)
Size: 168 mm x 111 mm x 20 mm
Power requirements: (+3.3 V / +12 V) : 0,6A / 0,01A (LoLa881) – 0,8A / 0,01A (LoLa881-SRC)
Operating: temp / humidity (non-condensing): 0°C / +50°C • 5% / 90%
Storage: temp / humidity (non-condensing): -5°C / +70°C • 0% / 95%
Connectors
I/O connector : 26-pin SCSI MDR
Audio I/Os
INPUTS
Digital inputs (stereo): 4 AES3, 110 ohms, 32 kHz to 192 kHz. 
Hardware sample rate converters (LoLa881-SRC) :  conversion ratio 16:1 to 1:16, from 20 kHz to 192 kHz, Dynamic: 144dB, THD+N: -140dB
Other inputs : 
AES11 Sync (from 20KHz to 192 kHz) 

Word clock (up to 192 kHz), 

Video sync (PAL, NTSC, 32000 Hz – 192000 Hz)
OUTPUTS
Digital outputs (stereo) : 4 AES3, 110 ohms, 32KHz to 192 kHz
Other outputs : Word Clock (up to 192 kHz)
Connectivity
4 female XLR's for AES3 inputs

4 male XLR's for AES3 outputs

1 female XLR for AES11 input

3 BNC for wordclock input/output/Video Reference
Which Linux Distribution are supported for sound cards ?
LoLa soundcards and multichannels VX/PCX series are supported on every Linux distribution, as the ALSA driver is part of the kernel.
The VX and PCX stereo cards have precompiled versions for Debian, Ubuntu, CentOs, Fedora, and OpenSuse-based distributions. For the LX series, the following distributions are supported: Ubuntu LTS / Debian LTS / CentOS 7.
For other Linux distributions, we propose a service for providing an adequate compiled and installable driver package. UAX and Cancun series will work on every Linux distribution.
My sound card is not detected by Windows
Make sure that you downloaded the lasted driver on our website. Indeed, from time to time we have to make component updates that require a new driver.