DANTE PCIe SOUND CARD
Smart and ultra versatile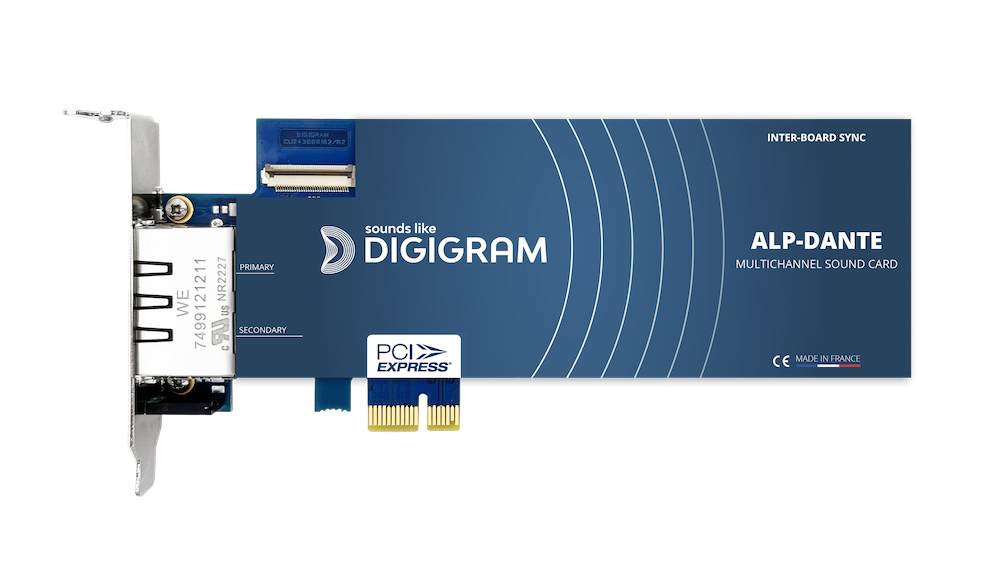 Redefine 'versatility' with the PCIe ALP-DANTE audio interface: its low-profile form-factor design matches most PCs and servers to address many applications. Its fanless design reduces consumption and is an asset for durability and sustainability.
The card's connectivity, combined with 64 channels of playback and 64 recording channels to/from a Dante network, opens new possibilities to reach beyond usual applications.
ALP-DANTE operates under Windows or Linux environments to address various applications. Built on the same reliable and stable architecture as all ALP cards, ALP-DANTE is the perfect match for mission-critical applications where audio is key: its versatility works wonders in broadcast, public safety, medical, transportation, or countless industry markets.
Drivers for Windows
and Linux
64 playback channels
64 recording channels
Switching ports mode
Redundant ports mode
Low profile PCIe
Fanless design
Compatibility with AES67 & SMPTE ST2110-30
4 Eth ports for versatile Dante network connectivity
Management via Dante controller and Dante device manager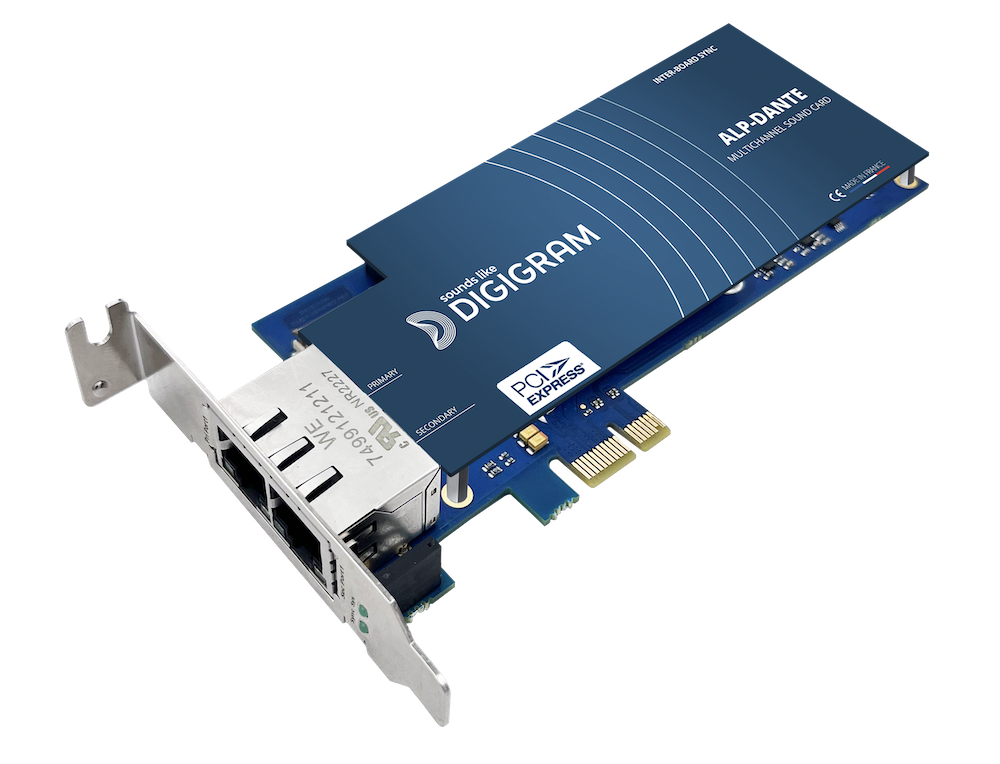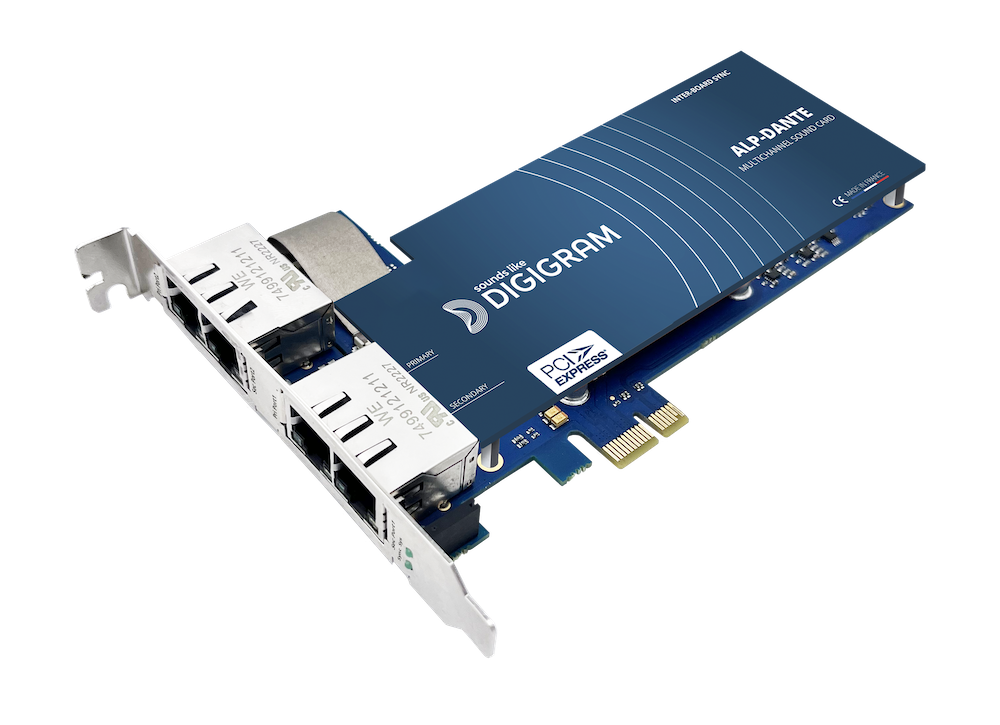 Full-height Profile
4 Eth ports
Format
Form Factor

Low profile PCIe
Full-height PCIe (with the provided additional full-height bracket)
Dimensions
L: 168 mm x H: 69 mm x l: 20 mm
L: 6.6 inch; H: 2.7 inch; l: 0.8 inch
L: 168 mm x H: 99 mm x l: 20 mm
L: 6.6 inch; H: 3.9 inch; l: 0.8 inch
Expansion Bus
PCI Express TM (PCIe TM) x1 (x2, x4, x8, x16 compatible)
Control panel
Digigram ALP-X ASIO Settings (Windows)
Asio Control Panel: up to 8 ALP-X cards
Select I/Os used through Asio
(others can be used through Wasapi)
Digigram ALP-X Manager (Windows)
Asio Control Panel: up to 8 ALP-X cards
One unified control panel for the whole ALP-X range
Manages up to 8 ALP-X cards
Vu-meters, clock frequency
Firmware update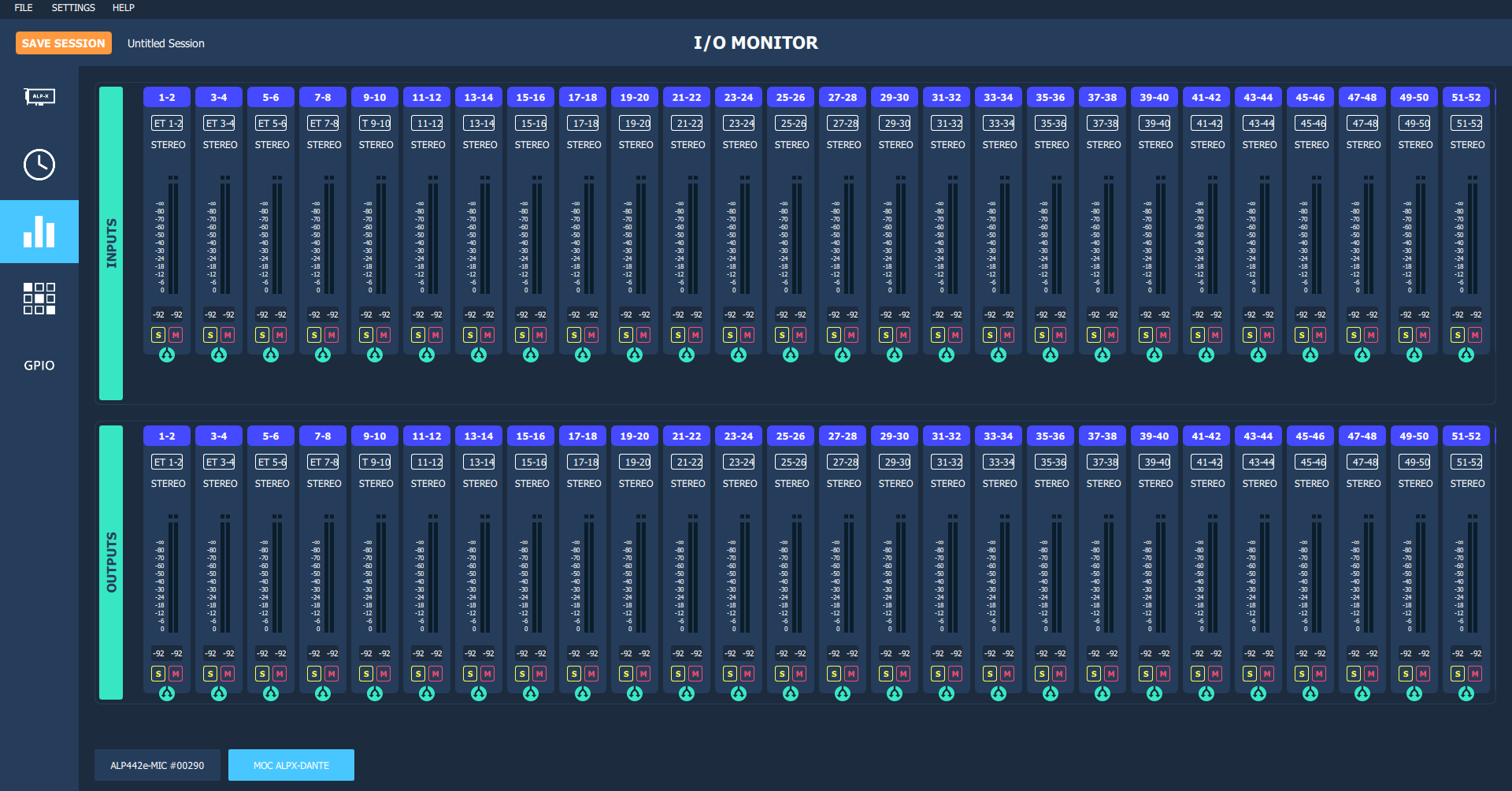 Drivers
Supported OS
Windows (as of Windows 10 and Server 2016)
Linux (as of Kernel 4.1 according to kernel.org)
Drivers
Windows: Asio, Wasapi/DirectSound
Linux: Alsa
One Driver Package
Multi-application and multi-card
API available to access the parameters
SPECIFICATIONS
Network connectivity
Configuration with two network ports
2 x Gbps Eth ports that can be used in redundancy mode (Pri, Sec), or in switching mode (Pri, Switch)
Configuration with four network ports
4 Eth ports on the full-height bracket, or 2 Eth ports on each low-profile bracket
Switching mode: 1 Primary port, 3 switching ports

Redundancy mode: 1 Primary port + 1 associated switching port, 1 Secondary port + 1 associated switching port
Input and output channels
64 x 64 channels at 44.1kHz and 48 kHz

32 x 32 channels at 88.2 kHz and 96 kHz

16 x 16 channels at 176.4 kHz and 192 kHz
Audio flows
Maximum 32 input and 32 output streams
Buffering
Up to 2000 samples per channel (41.7ms at 48 kHz)
AoIP compatibility
Support for AES67 and SMPTE ST2110-30
Sample format
Management
Audinate Dante Controller and Dante Domain Manager
Which Linux Distribution are supported for sound cards ?
LoLa soundcards and multichannels VX/PCX series are supported on every Linux distribution, as the ALSA driver is part of the kernel.
The VX and PCX stereo cards have precompiled versions for Debian, Ubuntu, CentOs, Fedora, and OpenSuse-based distributions. For the LX series, the following distributions are supported: Ubuntu LTS / Debian LTS / CentOS 7.
For other Linux distributions, we propose a service for providing an adequate compiled and installable driver package. UAX and Cancun series will work on every Linux distribution.
My sound card is not detected by Windows
Make sure that you downloaded the lasted driver on our website. Indeed, from time to time we have to make component updates that require a new driver.