The latest generation stereo sound card designed for the most demanding professional audio applications.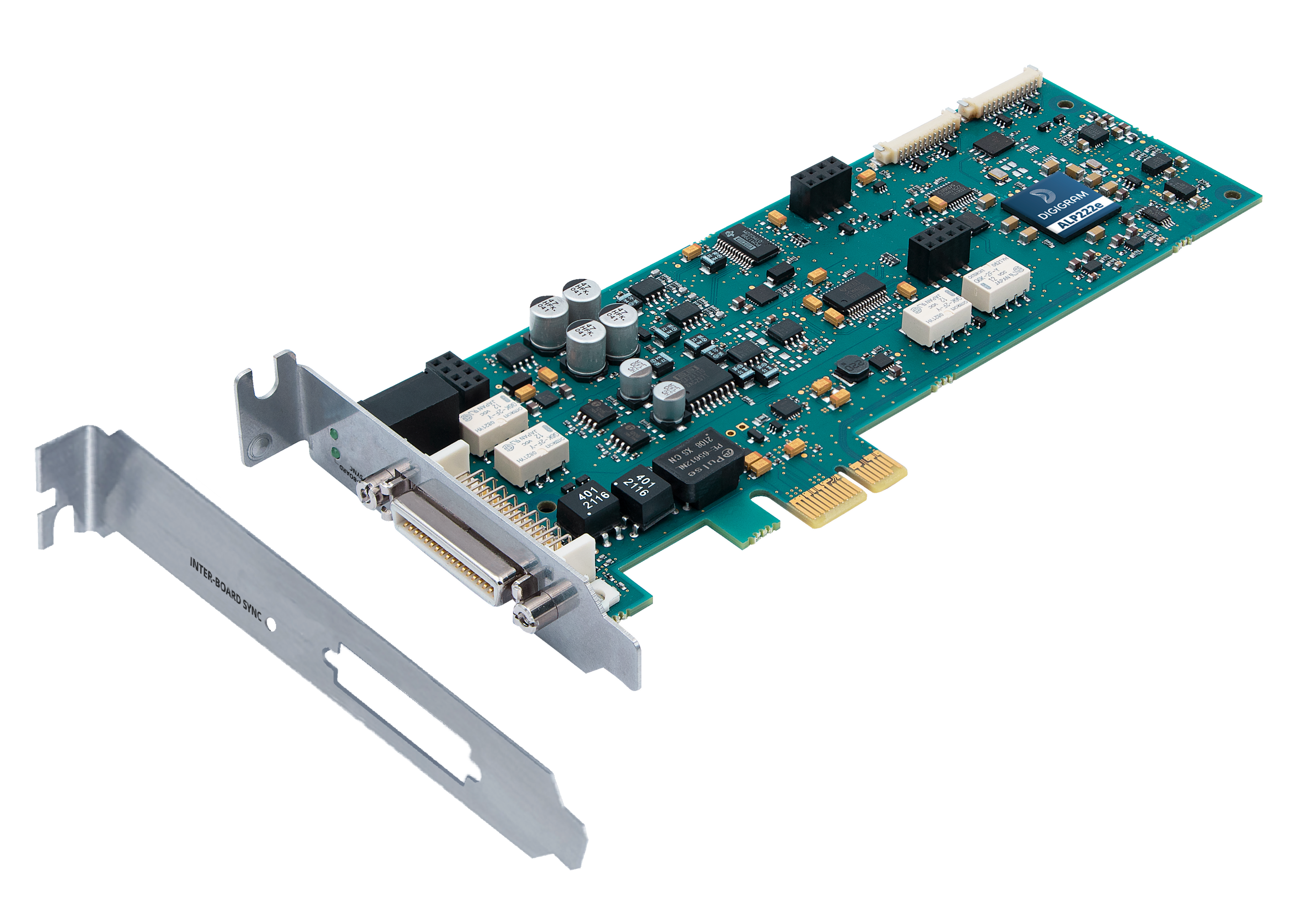 Universally acclaimed, unchanged Digigram features are still up to meet your challenges. Your favourite, trusted PCX and VX cards essentials still fuel the new Digigram ALP-X range. 
Same quality, same high standards. A new technology core for this new cards range will push back the limits, offer enhanced performances and simplify users' daily routines with ALP-X sound cards.
ALP221e  is a low profile PCIe stereo sound card designed for operating in continuous 24/7/365 use-environments, as part of professional audio applications based on Windows or Linux operating systems. The card offers digital audio connectivity, and features an on-board 6×6-channel mixer that allows for the routing and mixing inputs to the outputs.
The low latency drivers are multicard (up to 8 ALP cards) and multi-client.
Iconic Rock-solid
& life-long
Pristine Digigram
sound quality
Outstanding audio quality and performance
Made for regular application or custom design with help of Digigram control API
Rock-solid, life-long, hiccup free reliability
Fits in any type of PC / workstation / server with a PCIe slot
Drivers evolve with Windows and Linux updates
Format
Dimensions
L: 168 mm x H: 69 mm x l: 20 mm L: 6.6 inch; H: 2.7 inch; l: 0.8 inch 
Form Factor
Low profile
(standard and low profile brackets included)

Expansion Bus
PCI Express TM (PCIe TM) x1 (x2, x4, x8, x16 compatible) 
Drivers
Supported OS 

The supported Windows flavors are :
Windows as of version 10 20H2
Windows Server as of version 2019
Linux (from Linux Kernel 4.9)
Drivers 
Windows: Asio, Wasapi/DirectSound Linux: Alsa, Libgpiod 
One Driver Package 
Multi-application and multi-card API available 
Control panel
Digigram ALP-X ASIO Settings (On Windows)
• Asio Control Panel: up to 8 ALP-X cards
(intercard synchronization)
• Select I/Os used through ASIO
(others can be used through Wasapi)
Digigram ALP-X Manager (On Windows)
• A unique control panel for the whole ALP-X range
• Manages up to 8 ALP-X cards
Main functions
Zero latency FPGA-based mixer
Adjustment of input and output levels
Mixing before monitoring and recording
Sync selection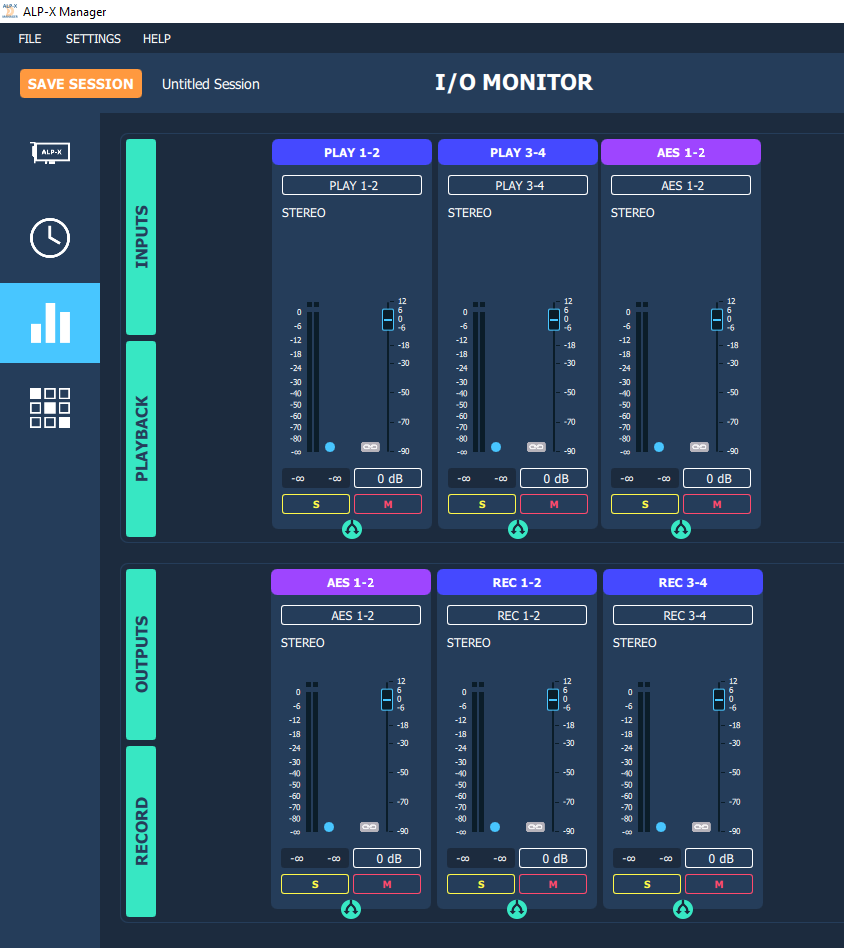 Hardware Specifications
INPUTS
Digital
1 stereo AES3 input
Adjustable digital gain: from -90 dB to +12 dB, in 0.1 dB steps
Sample rate (kHz): 32, 44.1, 48, 64, 88.2, 96, 128, 176.4, 192
Hardware Sample Rate Converter frequency ratio: from 1:8 to
7,5:1
OUTPUTS
Digital
1 stereo AES3 output
Adjustable output gain: from -90 dB to +12 dB, in 0.1 dB steps
Sample rate (kHz): 32, 44.1, 48, 64, 88.2, 96, 128, 176.4, 192
SAMPLE FORMAT
PCM (8, 16, 24, 32 and 32 float bits), Float IEEE754
CABLE & CONNECTORS SPECIFICATIONS
Breakout cable
Total breakout cable length: 1 m
XLRs for audio I/Os 
Inter board synchronization
Headphones: 3.5 mm TRS female jack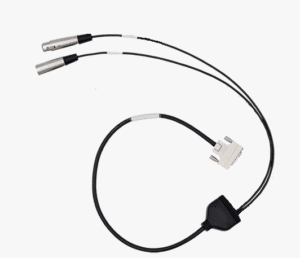 SYNCHRONIZATION SOURCES
Internal clock (kHz)
11.025, 16, 22.05, 24, 32, 44.1, 48, 64, 88.2, 96, 128, 176.4, 192
Intercard clock* (possibility to connect up to 8 ALP-X cards
linked with an inter-board sync cable)
+ AES3 input with SRC
Which Linux Distribution are supported for sound cards ?
LoLa soundcards and multichannels VX/PCX series are supported on every Linux distribution, as the ALSA driver is part of the kernel.
The VX and PCX stereo cards have precompiled versions for Debian, Ubuntu, CentOs, Fedora, and OpenSuse-based distributions. For the LX series, the following distributions are supported: Ubuntu LTS / Debian LTS / CentOS 7.
For other Linux distributions, we propose a service for providing an adequate compiled and installable driver package. UAX and Cancun series will work on every Linux distribution.
My sound card is not detected by Windows
Make sure that you downloaded the lasted driver on our website. Indeed, from time to time we have to make component updates that require a new driver.