LoLa280
Multichannel Sound Card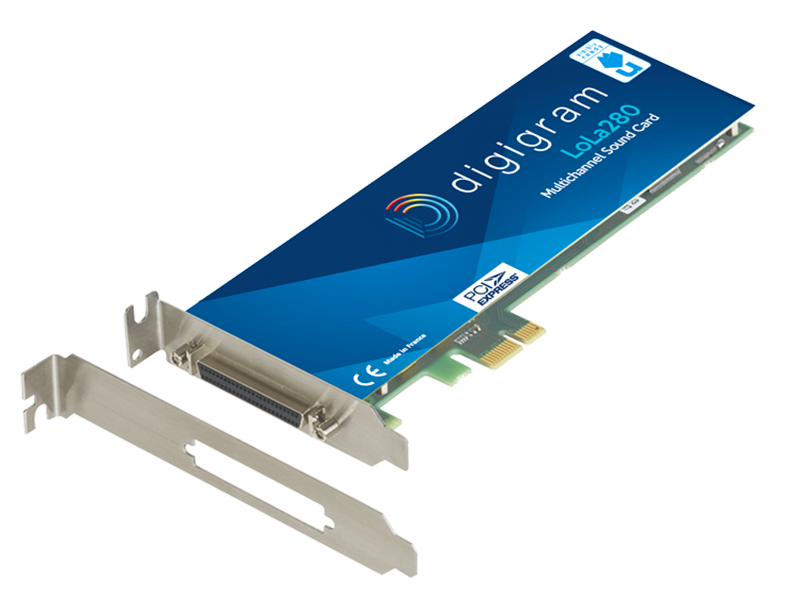 LoLa 280 is the queen of public address. We have designed this low profile PCI Express linear (PCM) multichannel sound card to excel at  professional audio recording. Our queen of PA accommodates both OEM and end user applications for any situation where reliability is paramount, with an extra user-friendly versatile built-in feature. Audio logging and archiving systems for radios or safety organizations work better with LoLa 280.
Reliable
Keep calm and carry on. Our hardware and software are designed for 365/24/7 mission-critical applications.
Made for your multi-channel analog recording
AGC on all inputs, mix before recording, up to 5 synchronized cards in a workstations
One size fits all
LoLa 280 fits every situation and every PC. Low Profile card, delivered with a full-height and a half height bracket to fit any PC / server
Versatile and hands-on
Delivered with standard and robust audio drivers for Windows and Linux, don't mind the adaptability: LoLa can be used with a large panel of audio applications
Eight balanced analog inputs
Two balanced analog outputs
Low OPEX
low failure rate and high reliability
Can be used in small form factor PCs and 2U servers (low profile)
Ongoing product support: from Digigram and its Development Partners
Supported OS / Environments
Windows versions XP, Vista, 7, 8, 10, 11, and Windows Server versions 2003 , 2008 , 2012, 2016, 2019
Linux
Drivers for Windows : WDM KS, WASAPI, DirectSound, ASIO
Drivers for Linux: Alsa
Configuration
Bus/Format: PCI EXPRESS TM (PCIe ® ) x1 (compatible x2, x4, x8, x16, x32)
Size: 168 mm x 69 mm x 20 mm
Power requirements (+3.3 V / +12 V): 1,2 A / 0,22 A
Operating: temp / humidity (non-condensing): 0°C / +50°C • 5% / 90%
Storage: temp / humidity (non-condensing): -5°C / +70°C • 0% / 95%
Connectors
External connector: 50 pin SCSI
Sampling frequencies available: Programmable from 22,05 to 192 kHz
A/D and D/A converter resolution: 24 bits
Supported audio formats: PCM (16, 24, 32 bits, and 32 bits Float)
Audio I/Os
INPUTS
Analog line inputs (mono): 8 balanced
Maximum input level/impedance: +24 dBu / > 10 kOhms
Adjustable input gain (manager):
– analog: from –90 dB to +18 dB (max sensitivity: 0dbfs for +6dBu input signal)
– digital: from +18 dB to +36 dB
Other inputs: 1 standard Word Clock input (up to 192 kHz)
OUTPUTS
Analog line outputs (mono): 2 balanced
Maximum output level / impedance: +24 dBu / >100 ohms
Adjustable output gain (manager) analog:
from –48 dB to 0 dB. digital: from -110 dB to +12 dB
Other outputs: 
1 standard Word Clock output (up to 192 kHz).  

Stereo headphones (20 mW in 600 ohms) on mini jack (female TRS 3,5 mm)
Audio Specifications
LOLA280
Frequency response
(record + play)

at 48 kHz: 20 76Hz -20 kHz: +0.1 /-0,3 dB




at 96 kHz: 20 Hz -40 kHz: +0.1 /-0,6 dB




at 192 kHz: 20 Hz -80 kHz: +0.1 /-5 dB

Channel phase difference: 20/20kHz

<0.2°/2°

Dynamic range
(A-weighted)

Analog In: >100 dB




Analog Out: > 97 dB

THD + noise 1 kHz at –2 dBfs

Analog In: <-97 dB




Analog Out: <-87 dB

Crosstalk
(Analog in or out)

  1 kHz at 24 dBu: <-94 dB




15 kHz at 24 dBu: <-70 dB
CONNECTIVITY
8 x female XLRs for analog inputs

2 x male XLR's for analog outputs

1 x 3.5mm female TRS for headphones

2 x BNC for Wordclock input and output