At first sight, conciliating theme parks, and broadly entertainment with critical audio does not seem to flow naturally. The connection is nonetheless obvious when one considers that large open air venues, accommodating thousands of people a year, also need to address every security and safety issue – leading to an upgrade of their existing audio infrastructures and systems.
THE NEED
A system integrator specializing in professional audio solutions has been tasked with deploying a park-wide system for flexible, reliable, and highly automated delivery of music or announcements – but mostly emergency messages.
THE CHALLENGE
To meet the park's requirements, the system has to smoothly interoperate with existing background music, scheduling, and paging applications — as well as the existing network infrastructure. The add-on should also simultaneously deliver targeted audio, such as notifications and music, to various zones within the park. The system must obviously ensure that priority and emergency messages are played out properly and in the appropriate zones, and it must allow for cloud remote control, with robust monitoring and reporting that make it easy to maintain system performance throughout the park. Finally, the proposed system should also be cost-effective and backed by proven technology.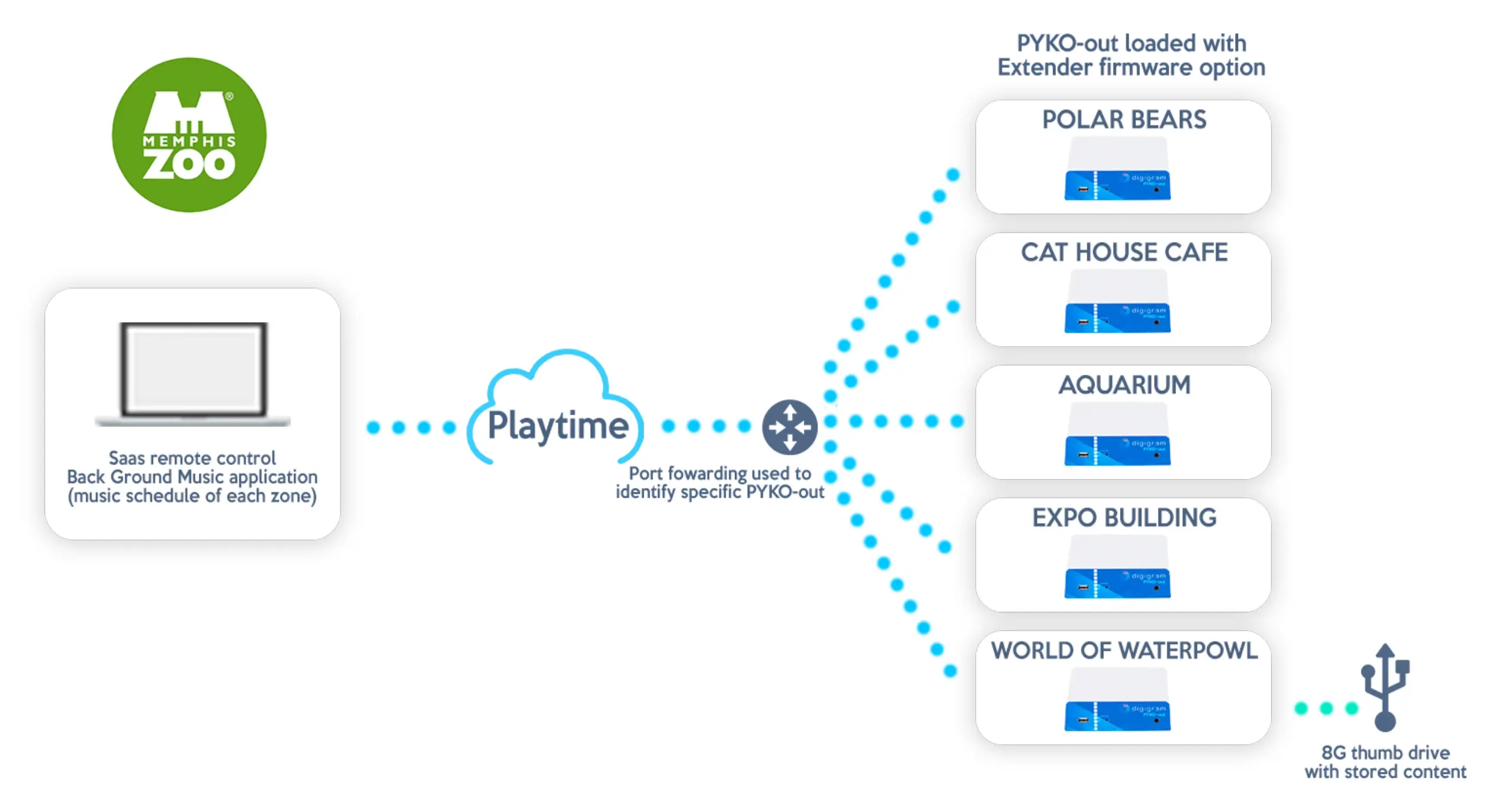 THE RESULT
It only makes sense to introduce a networked streaming-based system, knowing that this cost-effective solution will safely build upon an existing system to bring targeted audio to specific areas of a large entertainment venue such as a theme park. For the Memphis Zoo, Digigram deployed its based IP audio solutions, designed to propose a flexible, reliable, and scalable audio and emergency messaging system. Additionally, the PYKO-out used to design this structure are built on proven technology.
Working alongside the park's preferred background music applications, Digigram's streaming and processing engine effortlessly manages and delivers audio across the facility's existing IP network. It also monitors the quality and stable continuum of the output at each intelligent endpoint. Ultimately, the system requires little processing power, and can be hosted at low cost on commodity servers, and even managed from the cloud.
In addition to converting IP streams into analog sound for co-located amps and speaker systems, smart Digigram endpoints can easily scale various priority levels for emergency or timed broadcasts. Each unit can be addressed independently to simply message the appropriate zones throughout the park. Self-monitoring and reporting capabilities add to the overall robustness and resilience of the end-to-end audio system while reducing the need for manual intervention. A smart combo of high performance and intuitive features, Digigram products and solutions are key to build a lasting, scalable system that allows the park to focus not on its technology, but rather on creative ways to use audio as means to enrich the visitor's experience.
THE BENEFITS
Smooth integration into an existing infrastructure
Cost effective as it capitalizes on an existing system to scale up and operate on standard servers
Highly reliable, leans on proven tech and Digigram's expertise
Intuitive: no complex configuration is required. Setup is easy to be quickly operational
Messages priority management and overall monitoring is simple thanks to an effective area management
Smart system with self monitoring to reduce human intervention
Scalable to anticipate the venue's evolution